Chair and Head massage are closely linked and include a relaxing massage of the upper back, shoulders, neck, scalp and face given whilst seated. If oils are not used you may remain fully clothed. The massage can help you to relax, help with management of stress and anxiety, relief from neck and shoulder pain, tension, eye strain, sinus congestion and insomnia.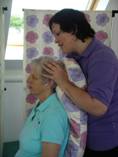 Head Massage is a relaxing treatment which, as the name suggests, concentrates on massaging the head.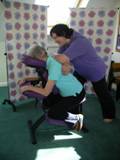 Chair Massage is more holistic. When you are seated your body is supported and you should feel relaxed even before the therapist commences the massage. Your head, neck, shoulders, arms, hands, back and legs can be massaged because these areas will all be easily accessible.
Both involve using a firm and gentle rhythm to help get rid of knots in the muscles and relieve uncomfortable tension.
Benefits:
Chair and Head Massages works on areas affected by mental and emotional stress and can bring immediate relief
They work to restore balance and harmony.
Treatment Time: This can vary from 15 to 45 minutes to suit you.